Man Utd don't often do it, but they gave us a lifeline yesterday. Their draw with Newcastle means that we can go within 4 points of the leaders, who still have to come to the Emirates. There is, however, the small matter of beating Tottenham. In recent weeks we have looked below par. Passing has not been as crisp as usual and we have been very wasteful in front of goal. Are we still feeling sorry for ourselves after not winning the Carling Cup? Whatever is stopping us play our usual game, we have to put it behind us and realise that the league is there for the taking. If we can grind out a couple of wins before the Utd game, who knows what could happen.
Last season, we went to White Hart Lane in a similar position. We had a chance to win the league, but we bottled it. Last year we said we had injuries which cost us points. This year, we really do not have any excuse. Apart from Vermaelen, we should be able to field our strongest team. I need not remind you that the last two league games we have played against Spurs have ended badly for Arsenal. Perhaps the most painful was the 3-2 loss earlier this season, at the Emirates. But we have to put all of this behind us and focus on what needs to be done. I honestly believe that if we win out next 6 games, we will win the league; the question is, can we do it?
Recent Form
Arsenal – WDDDWD (7th in the EPL form table)
Tottenham – WLDDDW (9th in the EPL form table)
It is perhaps quickly worth noting that Chelsea currently sit top of this form table, with 16 out of a possible 18 from their last 6 games. If we are not careful, we may not even finish second.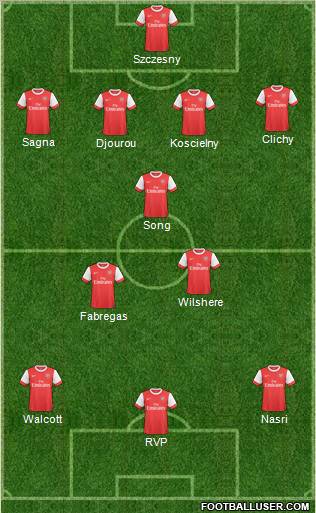 Team Prediction
Wenger has said that "It is down to me to use Jack well and that's what I will try to do." However, I think he sees this as a very important game for us and will perhaps choose to rest Jack at a later stage, perhaps before the Utd game.
Prediction
2-1 victory for Arsenal
Matches against Tottenham rarely fail to deliver in terms of excitement and an array of emotions will undoubtedly be on show later tonight – from fans and players alike. Tottenham know that if they can stop us getting three points, we can pretty much say goodbye to the title. With that in mind, they may be inclined to simply contain us and go for the draw. However, I think they will be more attacking due to the fact that they themselves are fighting for a top four finish. Furthermore, there is the added belief among the Tottenham fans that they are now equal to us. The game will not be an easy one, and the atmosphere at White Heart Lane will be very hostile. However, nothing would please me more than seeing Arsenal take all three points back to Ashburton Grove.